Music to your Ears
You're in. You're out. You're all over the place. What if your thermostat adjusted to your dynamic lifestyle?
Your life doesn't follow a set schedule. So why should your thermostat? You can control the Lyric smart thermostat from anywhere, or let it manage your comfort and savings automatically, so there's no learning curve, no rigid scheduling—just comfort when you're home and energy savings when you're away.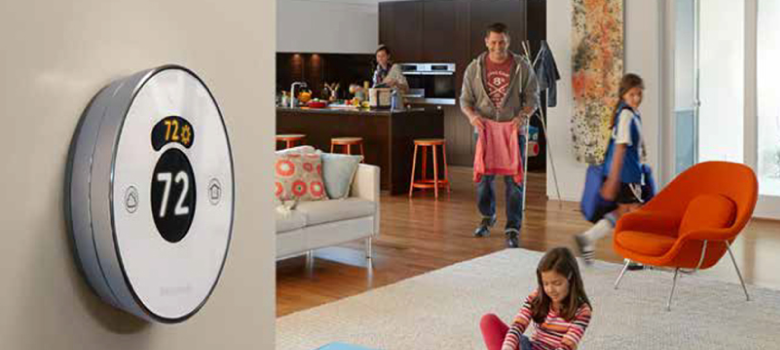 App based install – Everything happens in four easy steps using the mobile app – no manual necessary
Geofencing uses a homeowner's smartphone location to automatically save energy when they're away and ensure comfort when they return home
The Smart Cues™ feature delivers messages to a homeowner's device with alerts to change filters or with extreme temperature notifications
The Fine Tune™ feature considers both humidity and temperature so that a homeowner's desired temperature always feels the same
---
Contractors, homeowners and building owners have made Honeywell the world's number one thermostat choice for many reasons. For your contractor, the reliability, application flexibility and installation ease shine through. For you, the customers the ease of use, precision accuracy and attractive design all help make Honeywell the most trusted thermostat name. From the award-winning VisionPRO® to the new full-color Prestige® IAQ that works seamlessly with Honeywell RedLINK™ solutions, you can count on Honeywell's commitment to innovation and technology to keep you on the leading edge. Choose Honeywell for a full line of quality thermostats to meet the needs of every residential and light commercial application, budget and customer.